Call TODAY for a free estimate!
Dallas/Fort Worth Area: (972)-377-9002

Reserve Your Appointment With Us Today!
Enter your information below and let's discuss how we can bring your backyard idea to life!
Now is the ideal time to let Venture Custom Pools transform your outdoor living space into a personal oasis that can be enjoyed year round. Family and friends will love making memories poolside in an inviting backyard paradise perfect for StayCations or summer BBQ's. With interest rates changing, now is the time to discover our exclusive financing options. Let us build your dream - a dream that will bring value to your home and more importantly, quality time with your favorite people!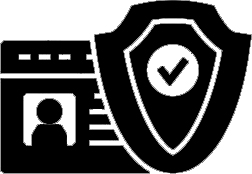 Your data is kept secure and never sold or shared!
"Geoff Waco is the best! He knows what is best for the customer and gets it done. He is always available to answer questions and communicates very well and effectively. He was so great and the reason why we chose Venture Custom Pools in the first place."
- Christy Rangel | Google Review
At Venture Custom Pools, believe that the final product that you will get at the end of the pool building process is the best part of this experience.
Venture Custom Pools designs and builds backyard retreats for families that recognize craftsmanship and the distinction of a truly custom swimming pool. As a third-generation pool builder with more than 60 years' experience crafting amazing backyard retreats, Venture Custom Pools has been the North Texas pool builder of choice for thousands of families.
If you are looking to invest in a quality custom swimming pool or backyard retreat in Frisco, Plano, or anywhere in the DFW Metroplex, build one that will stand the test of time, as well as provide sound financial and quality of life returns.
Call us today and we'll show you why we are one of the best custom pool builders in Dallas, Frisco, Plano, and across North Texas. Schedule a no-obligation consultation by calling 972-377-9002, and you will experience our dedicated and reliable service
At Venture Custom Pools, we believe that the final product that you will get at the end of the pool building process is the best part of this experience.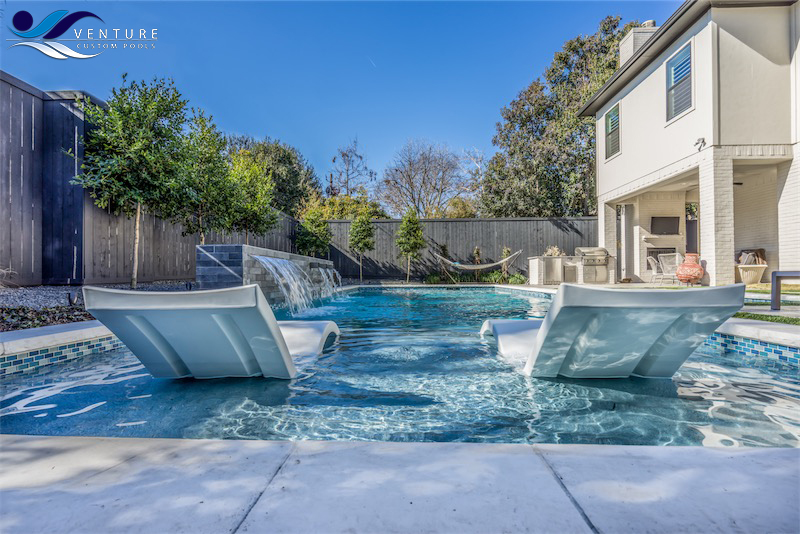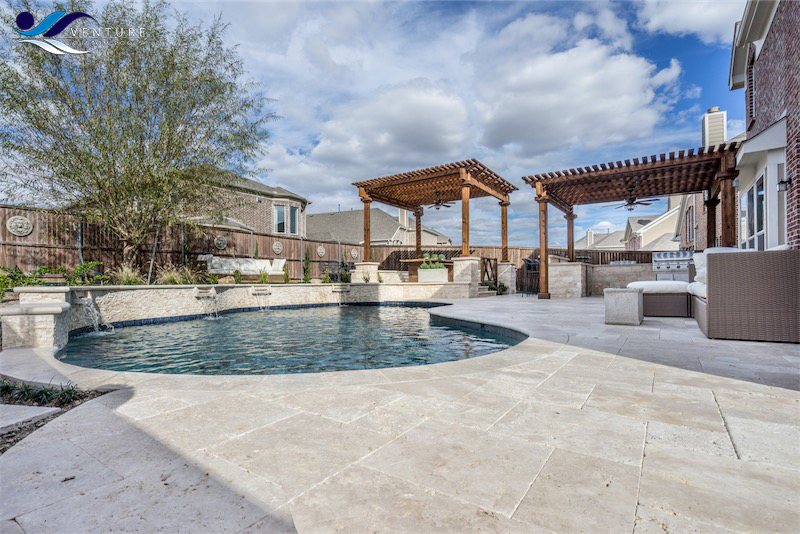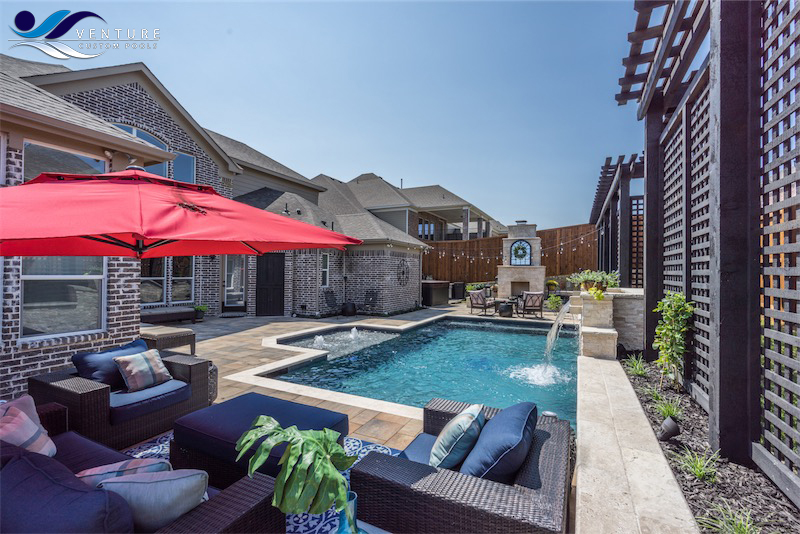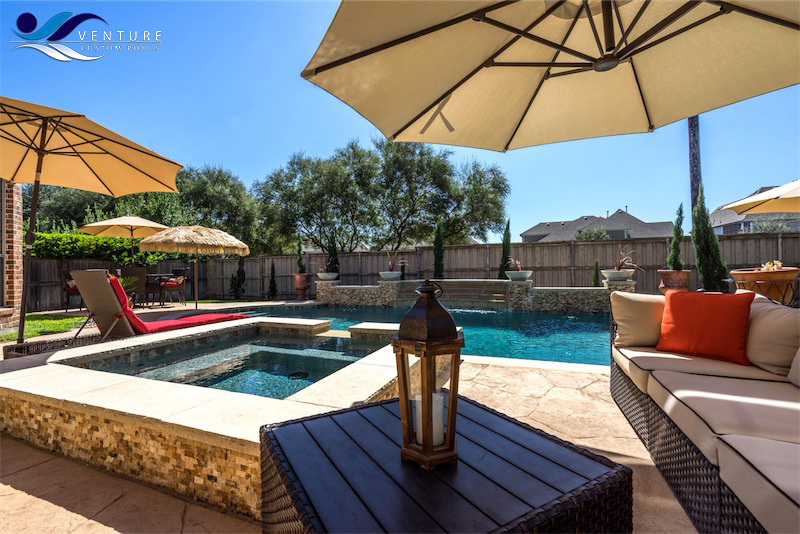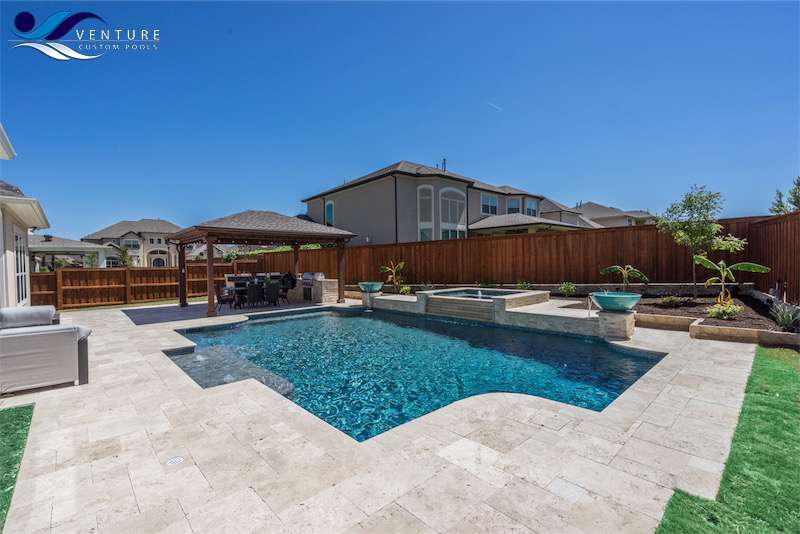 We love our clients and we treat them like family! Below are a couple of messages we have received from clients who love our work!
"This was a big investment for me and my family. I needed something clean and elegant and within my budget. Zack listened throughout the process and ended up showing me a design that I couldn't say no to. He was a constant source of communication throughout the project if I had any questions. Overall super pleased with this experience. Now hurry up and get here Summer :)"
- Brenda Hernandez - Google Review
"Great communication, the process went very smoothly from the initial dig to the final product. I went with Venture Pools because of my sales person Zach , he was very personable, friendly & listened to what I wanted. I met with Venture Pools & one other company, I felt the other company told me what I wanted not being interested in what I said I wanted. Tina in the office sent me daily emails as to the next step throughout the entire process. She was very prompt in her replies & always very professional. David my project manager was very informative, talkative & easy going. I highly recommend Venture Pools due to the entire process which took a little under two months. We have had many great compliments including the inspector from the city. I love my beautiful new pool and cannot wait to start enjoying it!"
- Nita - Google Review
"I can not say enough positive things about Venture Pools. We gave them quite a challenge with our 1980's pool remodel. It turned out better than we could have imagined! They had to deal with lots of rain and still managed to get the whole project done within a reasonable timeline. They were prompt and kept us updated constantly on timelines. Can't wait to enjoy our backyard for years to come! We will definitely be referring friends and family to them!"
- Lauren Huffman - Google Review
Let's discuss your next backyard oasis!
Contact us today and we can discuss your ideas and build you a backyard oasis you will make memories for years to come.
© 2021 Venture Custom Pools.